It's All in the Details: Countertop Edge Profiles
Most people think their countertop selection process is complete once they found their desired stone, but there is one detail you should not overlook and that's your edge profile. With the continued advancement in CNC (computer numerical control) technology, more countertop edge options have become available to the average consumer. This small detail can transform your entire space especially if you are looking to add a touch of luxe in an uncommon way.
With a multitude of edge profiles that exist, they usually fall loosely into one of two categories: traditional or modern. Most stone fabricators use a standard eased edge when customers aren't looking to upgrade to a detailed edge profile because it is a simple, clean edge that never goes out of style. Another popular, yet more expensive option, is the mitered edge which makes a countertop look thicker. A more specific mitered edge that you may be familiar with is the waterfall look that can be seen featured on kitchen islands. We love this style so much that we have it featured in our showroom kitchen pictured below.
At Granite Works, we offer a selection of many popular edge styles for both natural stone and engineered stone.
Standard Ease: Top and bottom edge is slightly rounded creating a simple, clean and slightly modern look perfect for all spaces.
¼" Bevel: Top edge is sloped at a 45-degree angle and bevel is applied as ¼ inch. The bevel angle looks best in space with a contemporary style.
½" Bevel: Top edge is sloped at a 45-degree angle and bevel is applied as ½ inch.
¼" Round: Top edge is subtly rounded ¼ inch and bottom edge is flat. An edge for all styles and spaces.
½" Bullnose: Top edge has soft curve and a flat bottom. A timeless, traditional edge for all spaces.
Full Bullnose: Top and bottom edges fully rounded to create a smooth, semi-circle, classic look. Spills need to get wiped up fast with this edge as liquids will roll under and down cabinets before straight off onto the floor.
Ogee: S-shaped curve profile that adds extra depth to the countertop. This edge is very popular in space with a traditional style.
Cascade: Top edge consists of three convex, cascading curves with a flat bottom. An edge for traditional or contemporary space.
Cove: Top edge has a distinct concave curve with a flat bottom. Ideal profile for a modern look in any space.
Chiseled: Edge is rough and natural looking, chiseled by hand. This profile is more rustic but a great option for indoor and outdoor spaces.
Full Bevel: Top edge is a 1-inch elongated slope, slightly more tapered than the standard 45-degree angle on a Bevel edge. This profile is best in space with a contemporary style.
Mitered: Assembled from two pieces of stone, this edge creates a thicker look to a countertop. The mitered edge is also commonly used in kitchens for those looking to achieve a waterfall effect with the stone slab covering one or both ends of cabinetry. This edge is a fit for all spaces and styles.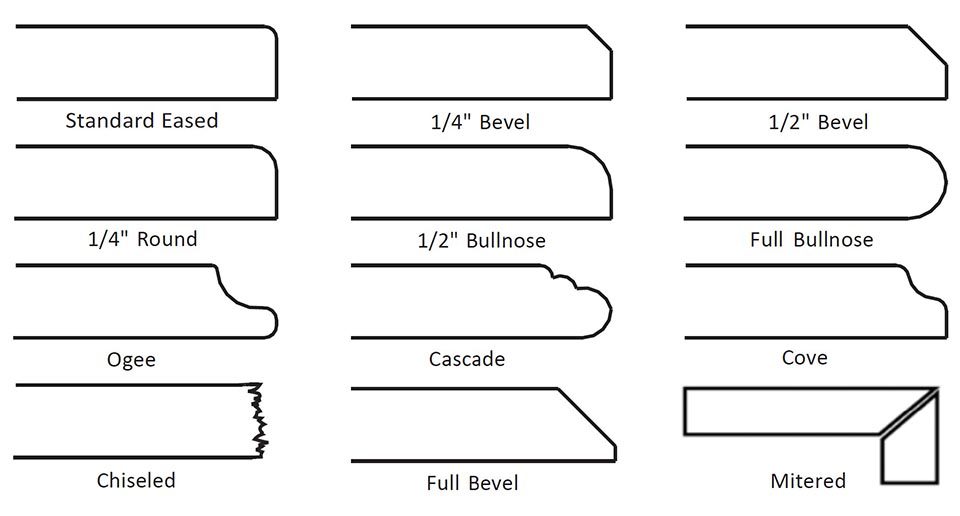 Next time you are in the market for new countertops, take a little extra time to decide if you think adding a unique edge profile will complement the style and space you are remodeling. We created a refence guide of edges we offer, available to download and print HERE. If you have additional questions about the countertop selection process with us, check out our FAQs or give us a call at 440-892-8761.